Sim Room of Errors opens door for improving patient care, safety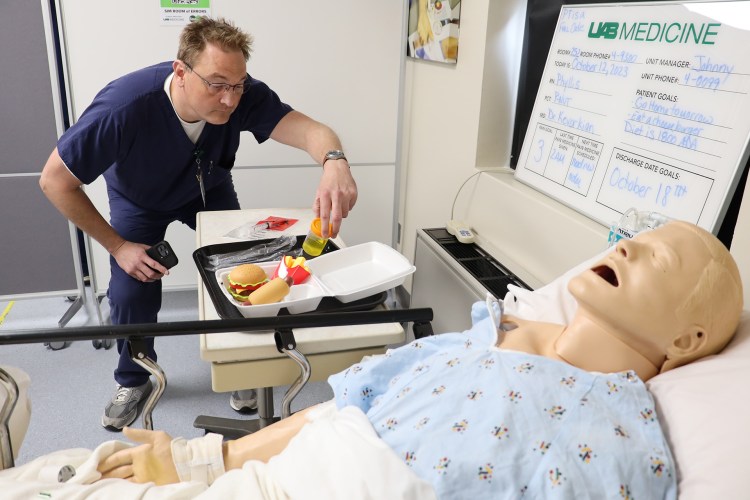 This past October, UAB Clinical Simulation encouraged learners to err on the side of safety.
As part of Quality Week, which ran Oct. 15-20, Clin Sim hosted the Sim Room of Errors, an exercise open to all members of UAB Medicine, in which participants could informally drop by Jefferson Tower Rm. 252 to identify simulated patient safety errors that could negatively impact patient care.
The room was divided into three sections — inpatient, ambulatory and pre-procedure — with each containing its own unique set of errors, ranging from the obvious (e.g., a urine specimen on a food tray) to the more subtle (e.g., IV bags resting in a basket, rather than hanging) and all points in between.
Further, those who identified the most errors — there were 47 total — would win prizes, including a pizza party for the department with the highest score and individual prizes for high-scoring participants.
The UAB Emergency Department took top honors, while professional development specialist Ashley Stallings came in first, followed by professional development specialist Tamicka Jones and assistant nurse manager Christopher Tardo.
"I think it was a fun exercise," simulation coordinator Andrea Hammett said. "Most of this type of education is typically done on learning management systems, so having multi-model continuing education allows people to be more active and hands-on in their learning."
Bryan Bradley, quality outcomes coordinator with Quality and Patient Safety, said the exercise offered an opportunity for all members of the health-care team to learn about the core responsibility of patient safety and quality care.
"It's the little things that often add up to have a larger impact on patient care," he said. "When you think about it, whether you're a clinical care nurse, respiratory therapist or otherwise, you go into work each morning, thinking of a specific path or task you have to complete that day for that patient, so you may not see those other items outside of your wheelhouse, per se.
"A lot of people forget that patient safety and quality is key to reliable, consistent health care. When you have both of those aspects in mind, then you're going to maintain a high level of continuity of care with the patient, day in and day out."
Bradley admitted to having some fun in the room, as well. With a professional background in clinical nursing, he said it had been 15 years since he last "worked the floor."
"I enjoyed reminiscing about the days of old," he said. "I've not been in clinical nursing for quite some time, but it still has an impact on my daily work, especially in how I influence other providers and stewards of care in treating patients with the underlying theme of quality."
Simulation, he said, goes hand in hand with quality and patient safety, as the Sim Room of Errors offers learning opportunities for all members of the health-care team.
"You don't have to be a clinical nurse to get something from this," he said. "Anyone who works in this facility has an impact on the care a patient receives. The Sim Room of Errors offers something for everyone in this institution."
Hammett hopes to see it return in the future.
"We'll do it again, but we may have to think outside the box a little bit," she said. "Fortunately, there's plenty of room for errors."