Through a partnership of the Center for Nursing Excellence (CNE), HSF Training, and UAB Clinical Simulation, HeartCode® was implemented at UAB in January 2016. HeartCode® Advanced Cardiac Life Support (ACLS) and Basic Life Support (BLS) comes in two parts; first, an online computer based training module that can be done anywhere at any time by the learner; and then part two, which is an in-person skills checkoff on voice-assisted manikins. The CNE oversees and controls the implementation, scheduling of which units will participate, and manages the licenses in conjunction with HealthStream. HSF training provides support for Providers and Ambulatory staff. UAB Clinical Simulation provides the physical space, equipment, and technological support (which includes troubleshooting for the HeartCode® equipment).
If you are a hospital employee, please contact the CME to be assigned Part 1 at CenterforNursingExcellence@uabmc.edu.
If you are a provider or an ambulatory team member, please contact HSF training at hsftraining@uabmc.edu.
The part 2 requirements can be fulfilled in multiple locations around UAB Hospital and at UAB Highlands.
Part 2 Locations
UAB Hospital, Jefferson Towers room 221
North Pavilion Room 5599B
Medical Education Building Room 714
UAB Highlands Room 3715 (2 stations are in the old Pain Clinic Waiting Room)
UAB Highlands Room 5537 
WIC 5100A
WIC 7301
Spain Rehab C304
North Pavillion 8514
North Pavillion 9208A
MEB 503
MEB 989
TKC 3 (Mammography Admin Office)
Each checkoff station is equipped with the following
Adult Manikin
Pediatric Manikin
Computer
Headphones
All other Necessary Equipment
If you have questions about additional locations in WIC or TKC, please contact your unit leadership.
---
Hands-on, In-person Skills Checkoff – What to Consider
How physically demanding performing the necessary amount of CPR is to get certified
Your personal health situation and take any necessary precautions.
What will be most comfortable to perform CPR – consider dressing in comfortable clothes, as if you were going to work out.
---
HeartCode® Resources & Directions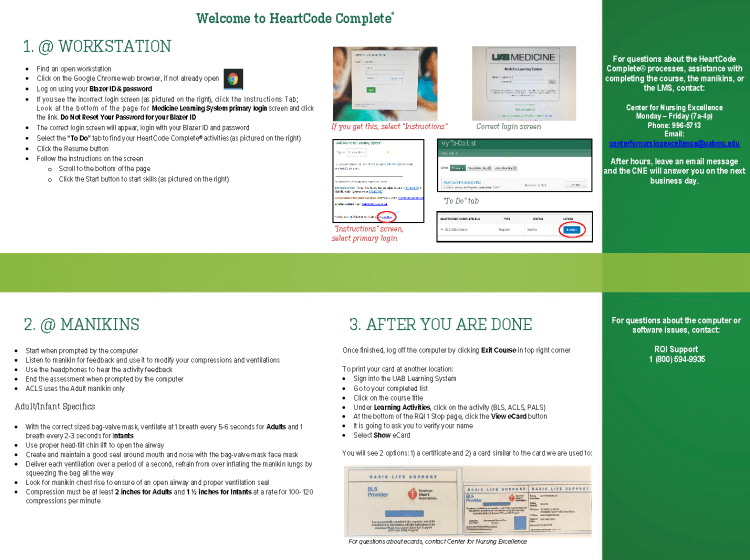 ---
The following steps are required to obtain a copy of your Heartcode® ACLS/ BLS eCard from the UAB Medicine Learning System.

Click the link (http://www.uab.edu/learningsystem/)
Click Medical Learning System, then login
Find and click on the Profile tab
Scroll down until you see Resuscitation Credentials (under certifications)
You should see an Options bar beside the expiration date of your certification (click the Option bar)
Click on View eCard
Another window will pop-up and ask you to confirm your name (confirm name by clicking the bar under Fields marked with a * are mandatory)
ACLS/ BLS Heartcode® eCard should be in a green box > click Show
A document will upload in another window and this will include your eCard
---
HeartCode® Contact Information
For questions about the HeartCode® process, the LMS, or manikins
For questions about the computer or software issues
Call RQI Support 1(800)594-9935