Geriatric Scholars Program
How would you want your grandma to be cared for? The answer, of course, is in the most kind, caring and effective way possible. A group of interprofessional learners gathered in the sim center to practice just that! These dedicated caregivers participated in a four-hour immersive simulation aimed at improving their skills related to geriatric care. Emily Simmons and Courtney Hall facilitated the experience with support from Clinical Simulation's Andres Viles, Director of Immersive Simulation.
Learners navigated through several cases that included care transition conversations, interactions with caregivers, safe medication use, and conducting functional assessments. Each case focused on one of the 4Ms of Age-Friendly Care – what Matters, Medications, Mentation, and Mobility. To make the session as realistic as possible, the team utilized standardized patients and embedded participants. These valuable support persons serve to enhance the simulation experience by inserting human patients, caregivers, and even clinicians. These trained personnel provide a level of realism that cannot be met with a manikin.
Learners worked in small multidisciplinary teams to practice the skills they developed throughout the Geriatric Scholar Program at UAB Medicine. As with all simulations, learners participated in debriefings to review how each simulation went and to reflect on takeaways from each experience. Learners received feedback not only from the facilitators but from the standardized patients and embedded participants. This feedback provides valuable insight of how their care decisions could be perceived in clinical settings.
This is the first time that the simulation portion of the program was utilized since the height of the pandemic. Hall was a scholar, herself, during that time and couldn't believe how powerful that the addition is for the program.
The scholars frequently comment that it is a very impactful learning experience because they are able to receive feedback from their simulation facilitators as well as standardized patients who represent the voice of the patient and family.

Emily Simmons
Director-Program Development
DIPT
She says, "The immediate feedback from the scholars was overwhelmingly positive. I think they really appreciated getting to practice the skills that they have learned with the standardized patients and caregivers, and receive real time feedback from them." Simmons adds, "We are so thankful to be able to partner with UAB's Clinical Simulation department to provide this learning experience for our scholars."
The UAB Geriatric Scholars Program is administered through the Department of Interprofessional Practice and Training. The program is based on the Age-Friendly Health System 4Ms and Nurses Improving Care for Healthsystem Elders (NICHE) principles. Since its inception this program has provided an innovative interprofessional development experience for over 400 health professionals. UAB Clinical Simulation is proud to be an integral part of the curriculum.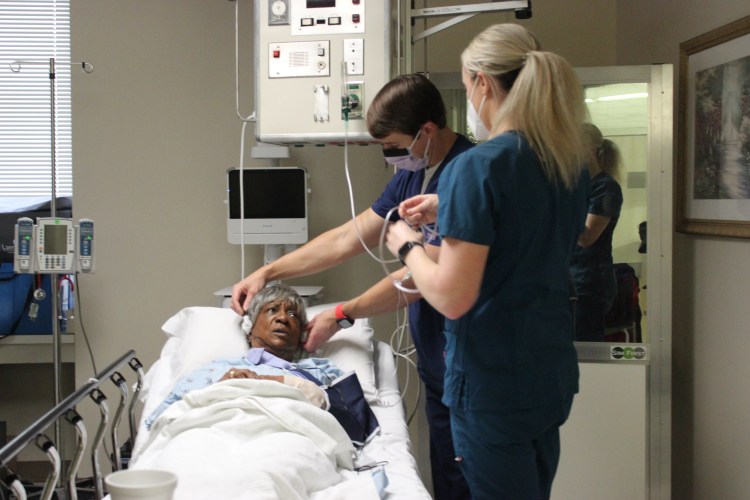 For more information about how your interprofessional team can benefit from simulation, please contact us at simulation@uabmc.edu. If you are interested in the Geriatric Scholars program, please visit their webpage.