Clinical Simulation hosts mobile care unit sims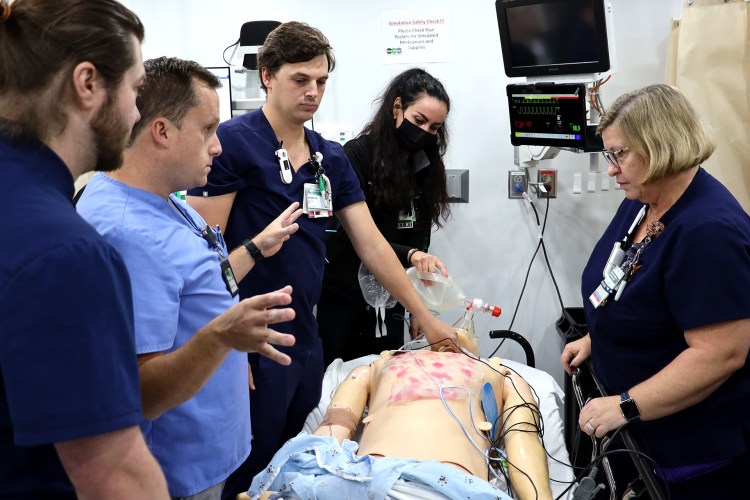 As the UAB Emergency Department prepares to open its new mobile care units, an interprofessional health-care team thought to "SimFirst."
It's the motto of UAB Clinical Simulation, which recently hosted a series of sims in the new units, which are located outside of the UAB Emergency Department (UED) along 18th Avenue South and will provide 16 additional treatment spaces for patient care.
"This was an opportunity to simulate care in the space prior to housing patients," said April Belle, UAB Clinical Simulation's director of systems simulation. "Our simulations are considered a dress rehearsal before the grand opening, giving us the opportunity to identify what works well, improve efficiency and find any potential blind spots."
In planning the simulation, Belle met with stakeholders from numerous departments across UAB Medicine, including UED, respiratory, pharmacy, imaging, clinical practice transformation, police, environmental services, imaging, facilities and more.
The result was two days' worth of immersive simulation involving more than 100 participants from across UAB Medicine.
The first day, Oct. 16, saw individual simulations depicting a code blue response, a stroke response and a behavioral response. On the second day, Oct. 17, individuals were invited to informally visit and test the units as they saw fit. Afterward, they could observe or participate in another code response, which involved an additional challenge — transporting a patient from a mobile unit to the UED's resuscitation unit.
During debriefing sessions on both days, participants and stakeholders were able to share their thoughts and ask questions about the space in real time, with feedback from leadership.
"We were able to help participants navigate the logistics of the space, test emergency medical processes and become familiar with this new environment," Belle said. "Now, they can envision working within that space and start to plan for future adjustments, giving us the opportunity to provide the very best care."
The sims marked UED nurse Cade Conville's first time in the mobile care units.
"I feel we learned a lot from this sim," he said, "especially about this particular care area, how to improve it and make it safe for our patients. That's our main goal, and it always will be. I think we made a lot of strides."
Emergency Medicine resident Jarad Anderson, M.D., concurs.
"This was a great opportunity to ensure we have processes in place to provide the best in patient care and safety," he said.
Belle attributes much of the simulation's success to interprofessional support.
"We were fortunate enough to not only have a lot of support from our own team but from executive-level leaders, as well," she said. "That level of support helps everyone else engage and take it seriously. People really embraced the opportunity to practice and learn what it might be like when these units open."
Ashley Stallings, professional development specialist with Emergency Services, praised the interdepartmental collaboration.
"This collaboration with the sim team, our staff, providers and ancillary services gave us the chance to see the space and progression of patient care through the unique perspective of each individual's role," Stallings said. "It was an excellent experience that not only helped us anticipate the needs in each scenario and mitigate challenges, but also navigate the unique opportunities of providing care in a space that has never been utilized at UAB."
Belle anticipates hosting additional simulations in the mobile care units prior to their opening, as well.
"Once the space has been refined and revised, we'll simulate in there again to find any opportunities for improvement," she said. "Ultimately, we want to help our team be their very best for their patients."