Clin Sim hosts inaugural Diabetes, Wound Scholar simulations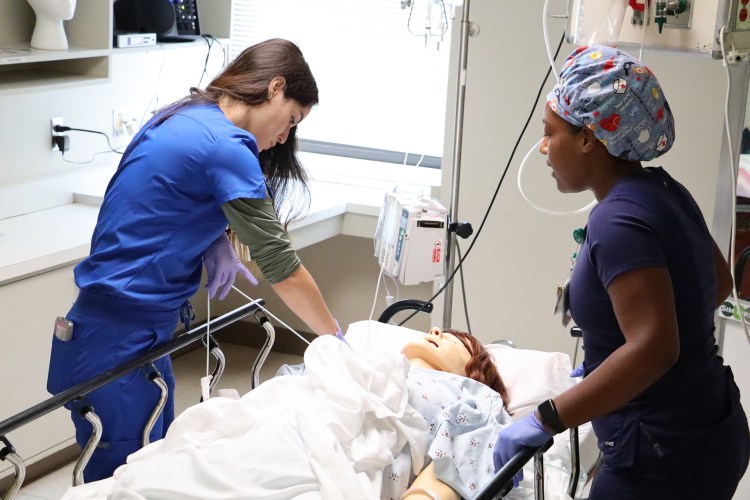 UAB Clinical Simulation encourages all members of the health care team to "SimFirst."
Learners from two Department of Interprofessional Practice and Training (DIPT) programs did just that — and in more ways than one.
This past summer, Clinical Simulation partnered with DIPT to deliver the first simulations for its recently revamped Diabetes Scholar and Wound Scholar programs.
"Simulations are powerful, because they allow the scholars to practice what they've been learning throughout the entire curriculum," said David H. James, DIPT program development manager and clinical assistant professor in the UAB School of Nursing. "The sims are really the culmination of what they've been learning."
The Diabetes Scholar Program provides health-care staff with evidence-based knowledge and quality improvement skills to advance diabetes care, while the Wound Scholar Program empowers frontline staff to meet the growing need for wound care prevention and treatment at the bedside. Both feature two tracks — advocate (for licensed or non-licensed participants) and advanced (for licensed participants only) — for staff members spanning UAB Medicine.
Originally created by UAB's Glycemic Management Team and the Wound Ostomy and Continence Team, respectively, the Diabetes Scholar Program and Wound Scholar Program were "rebooted" by DIPT after the COVID-19 pandemic to align more closely with the established Geriatric Scholar Program, said James, who coordinates the Diabetes Scholar Program. Further, both now incorporate simulation as an essential training component.
In August, UAB Clinical Simulation hosted learners from both programs' advocate tracks. The immersive sim team, led by Director of Immersive Simulation Andres Viles, presented program-specific scenarios with interprofessional and multidisciplinary collaboration in mind.
"These programs are great examples of how simulation can be used to prepare health-care teams to manage clinical situations in a safe and impactful way," Viles said.
Following the simulations, learners participated in debriefings to review and reflect on their experiences.
"The beauty of simulation is that learners get to look at their own performance and learn from their peers," James said. "So, in the debriefing, they were able to discuss best practices they observed with their teammates and share those across the room. It really was a powerful learning experience."
Viles agrees.
"To me, what always stands out in these interprofessional simulations is how the participants are learning from and with each other," he said. "At the end of the day, they have a better understanding of each other's role in caring for patients and how they can support each other."
For more information on how your interprofessional team can benefit from simulation, please contact UAB Clinical Simulation at simulation@uabmc.edu. If you are interested in the Diabetes Scholar and/or Wound Scholar programs, please visit the Department of Interprofessional Practice and Training website.