UAB Simulation is Going High Tech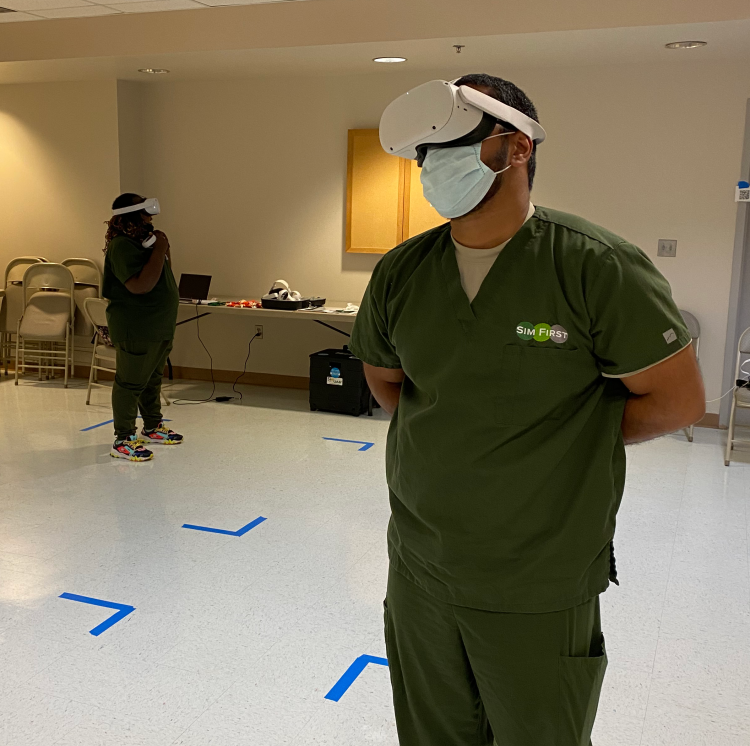 Virtual reality (VR) has come a long way! Taking the technology from novel entertainment to practical application, UAB Clinical Simulation has added this innovative tool to its simulation toolbox.
 This is not your teenager's VR! We offer a variety of modules that can train healthcare professionals on a wide range of topics. Clinical Simulation offers modules that allow you to practice anything from OB emergencies to ACLS. The learners take part in experiences that make them feel like they are really inside the situation. They make decisions
and perform various tasks, just like they would in the real world. One learner said, "I was emotionally involved in the scenarios because of the setup and feeling that I was really in it. I think it's a great educational tool and hope that we get to use it more."
 Andres Viles, Director of Immersive Simulation, has spearheaded the Virtual Reality program for Clinical Simulation. He says, "There is so much potential for use in healthcare training and so much more coming in the future. I recently had the opportunity to experience a module that involves two learners participating in the simulation. It was exciting to see where this technology is headed."
 Clinical Simulation offers the virtual reality modules to learners across the health system. Clinical Simulation offers VR Open Lab days several times each month for the ACLS module. You can register for a 1 hour slot to train. Registration is available online and slots are available for February now! You can also contact us about coordinating an individual loan, so you can arrange to have the equipment prepped for you to use outside of the lab.
The modules currently offered are listed on the website. This list changes as new modules are available or expire, so check back frequently. If you have questions about the technology or how to use it for your team, contact us at simulation@uabmc.edu.