Reducing Care Delays with Ultrasound
UAB Medicine team members are proactively working to decrease delays in patient care caused by delayed or difficult venous access. The skillful use of ultrasound guidance can increase the likelihood of successful peripheral IV placement, which reduces those delays.
The MICU identified a need for additional ultrasound-trained nurses to meet the vascular access needs of their medically complex patients. After discussing the objectives of the unit with Clinical Simulation team members, Geri Warman, NPDS and several MICU nurse facilitator candidates participated in training. The group got an overview of using simulation as a teaching tool for procedural training as well as procedure-specific refresher training and coaching strategies. After the initial training, UAB Clinical Simulation coordinators observed and coached the facilitators as they provided procedural simulation training to their peers. Clinical Simulation supported them with coaching until they were comfortable to facilitate independently.
Currently, after the successful delivery of several classes, the new facilitators have trained 37 nurses. Warman says, "This training has made a huge impact in the delivery of safe patient care. We hope to continue the process and train a new set of facilitators in the near future."
This training can be used to bring ultrasound guided peripheral IV (USGPIV) simulation all over the health system. Having a trained facilitator available in your area, allows for flexibility in delivery. The CNRAs in Highlands are taking advantage of this. Kathy Brazeel, CRNA, already facilitates simulation frequently. With that background, she was ready to facilitate USGPIV after a brief familiarization with Clinical Simulation.
Brazeel is able to facilitate sessions with the staff during their workday, as their clinical duties allow. Having her available onsite has made it more convenient for the learners and has expanded the number of learners that have been able to participate. Brazeel says "Having more confidence in this skill has helped the CRNAs decrease delays." She also reports that the additional skills have helped her troubleshoot vascular access problems with other professions in the OR.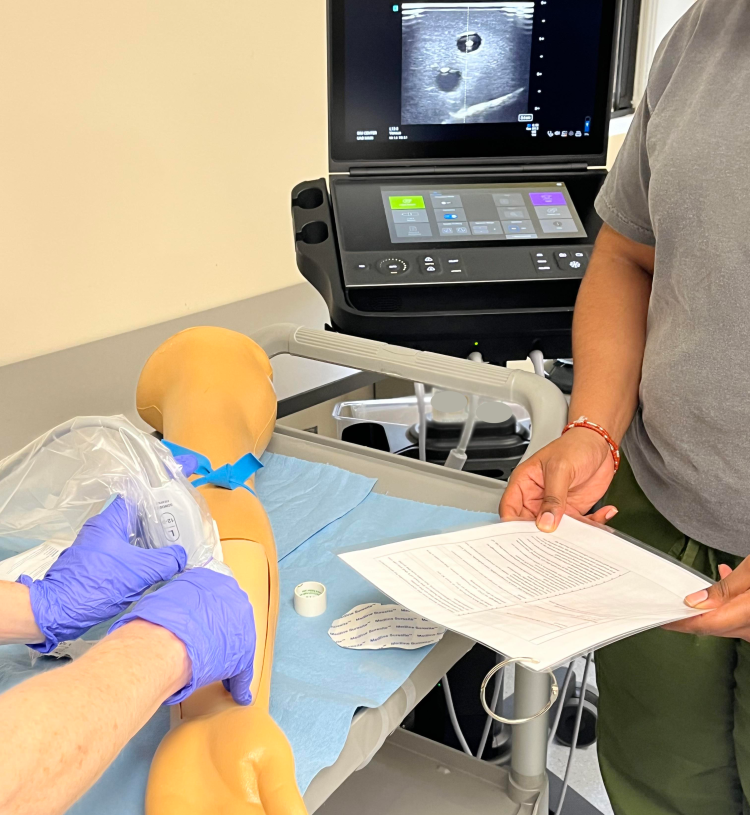 If you are interested in learning to facilitate USGPIV or if you have a need that may be addressed with simulation, please contact Clinical Simulation at simulation@uabmc.edu.